Posted on 2/17/2017 10:21:00 AM.
The US Department of Housing and Urban Development has approved the state's plan for spending the first $438 million approved for Louisiana flood recovery. The governor's Deputy Chief of Staff Julie Baxter Payer says the next step is for HUD to do grant agreements and open a line of credit for the state.
More
Julie Baxter Payer, HUD, flood recovery, federal assistance
---
Posted on 9/8/2016 6:38:00 AM.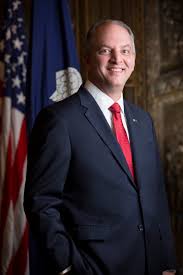 Governor John Bel Edwards is traveling to Washington, D.C., today to meet with federal officials about getting more assistance for Louisiana flood victims. Edwards says his office now has a better understanding of the flood damage and an idea of how much money it will take to repair it all. He says they are asking for $2 billion to help flood victims rebuild their homes.
More
John Bel Edwards, #laflood, federal assistance
---