Posted on 2/17/2017 3:11:00 PM.
Parkway High School in Bossier City has fired David Feaster as head football coach, after making a statement on a radio station saying Alabama coaches are not allowed on campus to recruit players. The school's principal did not like that Feaster was making rules for the school. KTBS TV Sports Director Tatum Everett says Feaster's firing comes as a shock.
More
David Feaster, Parkway High School, football, Tatum Everett
---
Posted on 11/14/2016 5:33:00 PM.
UL-Lafayette head football coach Mark Hudspeth publicly apologized for the behavior of four of his players who were recorded in the locker room singing a rap song filled with vulgarities that says negative things about President-elect Donald Trump. Hudspeth says these young men have shown remorse for their actions.
More
ULL, Mark Hudspeth, football, Trump
---
Posted on 11/4/2016 11:31:00 AM.
Tiger fans are fired up for Saturday night's big game against the number one ranked Alabama Crimson Tide. Greg Wilson of Monroe comes down to every game but says he's most excited about this one. He is predicting a 28 to 23 victory for the Tigers.
More
LSU, Tigers, football, Ed Orgeron, Alabama
---
Posted on 11/4/2016 6:04:00 AM.
A front is moving through Louisiana today that's expected to bring more fall-like temperatures. State climatologist Barry Keim says this is welcome news since temperatures have been running 10 degrees above average for the past week. But Keim says what we really need is rainfall, as drought has taken hold of Louisiana with no end in sight.
More
Barry Keim, fall weather, football
---
Posted on 9/26/2016 1:36:00 PM.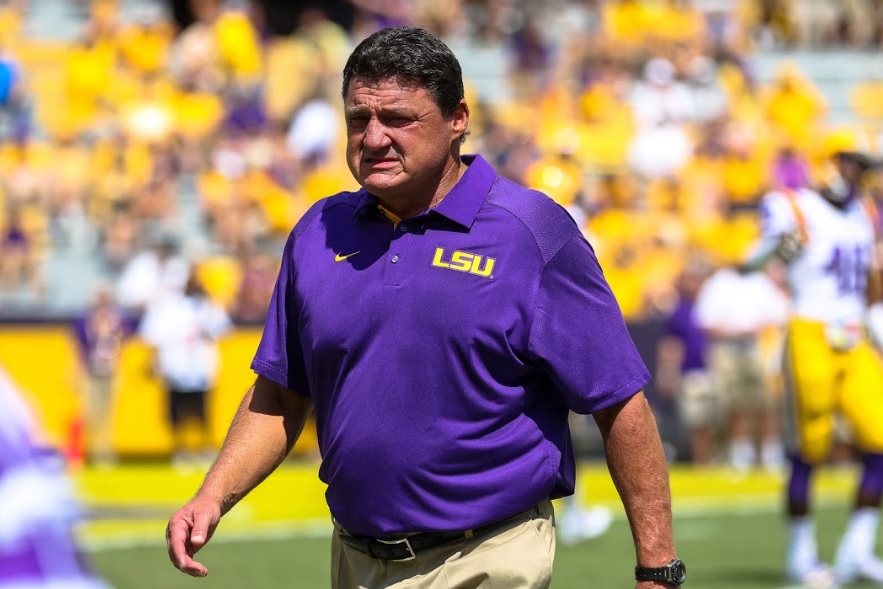 Michelle Southern reporting.
LSU Athletic Director Joe Alleva spoke with reporters along with interim Head Coach Ed Orgeron today. He said making the decision to terminate Les Miles was not an easy one to make, but changes within the program had to take place.
joe alleva, lsu, ed orgeron, football, les miles
---
Posted on 4/15/2016 1:54:00 AM.
The funeral for WWL Saints Color Analyst and former LSU and Saints player Hokie Gajan, who passed away at 56 from cancer, is today in Madisonville. Sportswriter and Gajan's former LSU teammate John Ed Bradley say he remembers first meeting Hokie in 1974 when they played each other in a high school football game. He says Gajan was a terror on the field and an overall great guy.
More
Hokie Gajan, LSU, Saints, John Ed Bradley, funeral, football
---
Posted on 4/12/2016 12:53:00 PM.
Many people are remembering the great life of former LSU and Saints running back Hokie Gajan, who passed away from cancer at the age 56 last night. LSU's all-time leading rusher Charles Alexander played with Hokie for two years in college and says Gajan was the ultimate teammate.
More
Hokie Gajan, LSU, Saints, Charles Alexander, football, cancer
---
Posted on 12/16/2015 3:01:00 AM.
The Louisiana Tech football team arrives in the Big Easy today in advance of Saturday's R+L Carriers New Orleans Bowl. The 8-4 Bulldogs will face the 9-3 Arkansas State Red Wolves in the game that kicks off at 8PM in the Mercedes-Benz Superdome.
Louisiana Tech, football, New Orleans, bowl, Skip Holtz
---
Posted on 12/15/2015 12:37:00 PM.
Former McNeese State coach Matt Viator is the new head football coach of the ULM Warhawks. Viator amassed a 77-33 record in his 10 seasons at McNeese leading the Cowboys to four Southland Conference championships.
ULM, football, Matt Viator
---
Posted on 12/4/2015 11:22:00 AM.
A state judge has dismissed the lawsuit filed by the Tangipahoa Parish School System on behalf of Amite High School in an effort to lift the football team's suspension from the Class 3A playoffs. The LHSAA removed the Amite team from the playoffs after a bench clearing brawl broke out in their quarterfinal win.
LHSAA, Amite, football, fight, suspension, Tim Meche, Chris Moody
---
Next Entry