Posted on 4/17/2017 5:53:00 PM.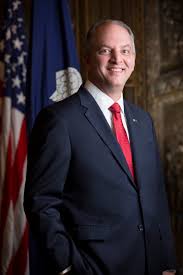 Here is the official release from the governor's office:
Legislation that makes up the bulk of Gov. John Bel Edwards' tax reform package was filed in the Louisiana House of Representatives. The Commercial Activity Tax ensures that all business entities in Louisiana pay their fair share of taxes, while protecting Louisiana's small businesses. The C-A-T is part of a broad tax and spending reform package proposed by Gov. Edwards to avoid the fiscal cliff on July 1, 2018.
More
Governor John Bel Edwards, gross receipts, legislative session
---
Posted on 4/17/2017 4:05:00 AM.
The centerpiece of Governor John Bel Edwards' plan to overhaul's Louisiana tax code is expected to be filed today. The measure has been referred to as a gross receipts or Commercial Activity Tax. Publisher of lapolitcs.com, Jeremy Alford, says there's very little support for this new tax on businesses
.
John Bel Edwards, CAT tax, gross receipts, Democrats, businesses, lapoltics.com
---