Posted on 7/24/2018 4:09:00 AM.
Southeast Louisiana Congressman Steve Scalise is set to seek his 6th term in office as representative of Louisiana's 1st district. He's regarded as one of the most influential members of

Congress,

and sits a Republican Majority Whip. Scalise says he's worked hard to get some big wins recently in the areas of flood protection and coastal restoration.

"We were able to get language in the tax cut bill that got signed into law to increase the amount of money that Louisiana will get from revenue sharing, and estimates are that we will get over 100 million dollars of additional revenue for coastal restoration," Scalise said.
More
Steve Scalise, Jim Francis, Lee Ann Dugas, healthcare, gun control, tariffs
---
Posted on 5/20/2018 4:52:00 AM.
The latest school shooting, this time at Santa Fe High School, has reignited the conversation around gun regulations. In response to the Parkland massacre, several bills were introduced in Louisiana that targeted firearms, but all were struck down. New Orleans Senator Troy Carter, who introduced several gun bills this year, says he hopes the legislature will come around on gun control.
More
Louisiana, gun control, legislation, Troy Carter
---
Posted on 4/23/2018 11:46:00 AM.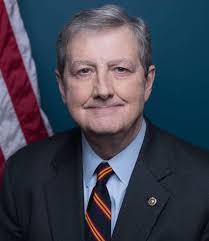 U.S. Senator John Kennedy is asking Louisiana officials to cancel state contracts with Citigroup and Bank of America after the banks announced that they would enforce restrictions on companies that sell firearms. Kennedy says after getting bailed out in 2008, banks have no right to be dictating policy.
Sen. John Kennedy, gun control, Citigroup, Bank of America
---
Posted on 4/3/2018 12:58:00 PM.
A Senate committee passed a bill by New Orleans Senator Troy Carter that would prohibit the sale of assault weapons under the age of 21. Baton Rouge Senator Regina Barrow says 18-year-olds aren't emotionally mature enough to own a firearm.
More
assault weapons, assault rifles, gun control, gun laws, Louisiana, Troy Carter, Regina Barrow, Michael Harrison, Bodi White, Johnathan White
---
Posted on 3/12/2018 2:34:00 PM.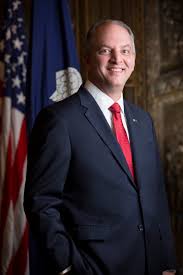 Governor John Bel Edwards kicked off the regular session today by laying out his legislative agenda, and tearing into lawmakers who failed to fix the fiscal cliff. The governor highlighted the plight of Louisiana's highest performing students, who could begin to be poached by universities in other states with TOPS still up in the air. Edwards says right now Bama is beating us academically, and athletically.
More
John Bel Edwards, regular session, fiscal cliff, TOPS, minimum wage, licensing, gun control, Alabama
---
Posted on 2/28/2018 1:13:00 PM.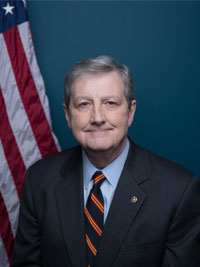 Louisiana Senator John Kennedy says he will not support what he terms a "knee-jerk" reaction to additional gun control laws in the wake of the Florida shootings. Kennedy opposes a bill to modify the existing back-ground check systems for firearm purchases because he says that system is broken.
More
Senator John Kennedy, gun control, school shooting, constitutional right
---
Posted on 2/23/2018 3:14:00 AM.
Chalmette Representative Raymond Garafalo will reintroduce a bill in the regular session that would allow school educators to carry weapons on campus if they have proper training. Garafalo first suggested the idea in 2014, but it was shot down by House Criminal Justice committee. In the wake of recent threats and attacks, Garafalo says allowing guns in the classroom may prevent future mass school shootings
.
"The deterrence level of a criminal or a crazy person knowing that there is a possibility that they are going to run into armed resistance at a school is a lot more than we have now."
More
Ray Garofalo, gun control, school violence
---
Posted on 2/21/2018 4:25:00 PM.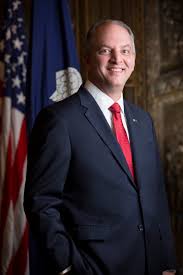 Governor John Bel Edwards addresses the issue of gun control during his monthly call-in radio show. Edwards says in the wake of the latest mass shooting in Florida, he's calling for a more robust background check system for firearm purchases.
More
John Bel Edwards, gun control, background checks, Ask the Governor
---
Posted on 1/10/2018 4:11:00 AM.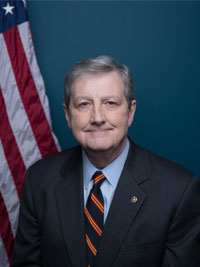 U-S Senator John Kennedy opposes a bipartisan bill designed to improve the national background check database. The legislation would penalize federal workers who fail to report relevant records to the database, and provide incentives to states that increase reporting levels. Kennedy says we don't need legislation asking federal workers to do their job…
John Kennedy, gun control, NICS
---
Posted on 10/3/2017 12:14:00 PM.
Saints Coach Sean Payton says current gun laws are flawed and frustrating as he spoke about gun control in light of the massacre that occurred in Las Vegas during a country music concert. In a conference call with beat reporters, Payton says the current system in our country right now is not working.
Sean Payton, gun control, Las Vegas mass shooting, Will Smith
---
Next Entry