Posted on 4/30/2018 5:57:00 PM.
Two current and two former Troopers have been arrested on various charges as part of a six month investigation into payroll fraud. The four men allegedly claimed bogus hours and wrote fraudulent tickets as part of a highway safety program funded by district attorneys. State Police Colonel Kevin Reeves says it's a disappointing day.
More
Col. Kevin Reeves, Louisiana State Police, payroll fraud, investigation
---
Posted on 4/30/2018 12:42:00 PM.
Investigators are trying to determine if severed heads discovered last month near lakes in Texas and Louisiana are connected. Cameron Parish Sheriff Ron Johnson says the head found in his parish next to Highway 27 and one in Texas are eerily similar.
More
Sheriff Ron Johnson, serial murder, investigation, Cameron parish
---
Posted on 2/23/2017 12:18:00 PM.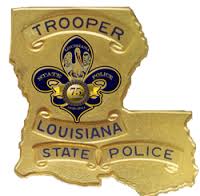 Governor John Bel Edwards expressed a serious tone when asked about the travel scandal involving four members of the State Police who took side trips to Las Vegas and the Grand Canyon while attending a law enforcement conference in San Diego. Edwards, who has already ordered a full investigation, says this incident shouldn't be taken lightly.
More
John Bel Edwards, Mike Edmonson, LSP, investigation
---