Posted on 4/27/2017 9:59:00 PM.

For the first time since 2007, two LSU players were selected within the first six picks of the NFL draft. Running back Leonard Fournette was the fourth overall selection to the Jacksonville Jaguars. Two picks later, the New York Jets took safety Jamal Adams.
In 2007, LSU also had two players taken within the first six picks. JaMarcus Russell went number one to the Oakland Raiders and LaRon Landry was drafted by the Washington Redskins at number six.
NFL draft, Leaonard Fournette, Jamal Adams
---
Posted on 1/6/2017 12:02:00 PM.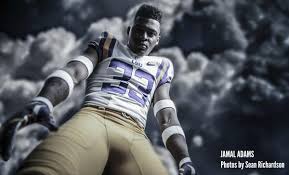 LSU All-American Safety Jamal Adams announces he's skipping his senior season and entering the NFL draft. Adams held a press conference Friday morning to thank all of those who helped him become a likely first-round draft choice. Adams was emotional when talking about his parents.
Jamal Adams, NFL draft, Les Miles, Leonard Fournette, Davon Godchaux
---
Posted on 9/26/2016 5:44:00 AM.
After 114 wins, a BCS National Championship and two SEC championships, Les Miles is no longer the head coach at LSU. Miles, along with LSU offensive coordinator Cam Cameron were let go, after a bad loss to Auburn to drop their record to 2-2.
les miles, firing, ed oregeron, cam cameron, lsu, travin dural, jamal adams
---
Posted on 10/1/2014 5:11:00 AM.
True freshmen wearing purple and gold will play big roles in Saturday's SEC tilt between 15th ranked LSU and fifth ranked Auburn. Wide receiver Malachi Dupre was playing for John Curtis High School last season, but is not surprised by the increased playing time as the season goes on.
Malachi Dupre, Leonard Fournette, LSU, Auburn, Brandon Harris, Jamal Adams
---