Posted on 3/27/2018 3:30:00 AM.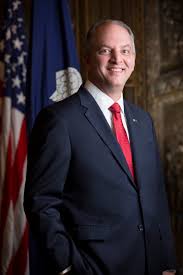 A bill to raise the minimum wage will be up for a vote before the full senate today. The legislation would boost the minimum wage to 8.50 an hour by 2020, and was a campaign trial promise for Governor John Bel Edwards. Edwards says paying the current minimum wage just isn't right.
More
minimum wage, John Bel Edwards, Mark Rosa, regular session, legisation
---
Posted on 2/15/2018 10:45:00 AM.
Most persons are happy with their jobs. A recent Bankrate-dot-com survey finds the average worker rates their job satisfaction at a seven out of ten. And half of those gave a rating of at least eight. UNO Business Professor Mark Rosa says he's not surprised.
satisfied with jobs, Mark Rosa, bankrate.com
---
Posted on 12/8/2017 12:46:00 AM.
The National Retail Federation predicts holiday shoppers will spend about $967 a person on gifts this year, up 3.4% from in 2016. Mark Rosa, Professor with the UNO School of Business, says everybody gets excited during the season and wants to be generous but we have to resist the urge to overspend. He says it's easy to put purchases on credit cards.
More
Mark Rosa, holiday shopping, UNO, National Retail Federation
---
Posted on 12/1/2017 7:06:00 AM.
Will holiday company parties be a bit more laid back this year, because of the heightened awareness of sexual harassment? A national conversation is underway about office misconduct in the wake of allegations against many high profile celebrities.
mark rosa, christmas parties, sexual harassment, workplace misconduct, office holiday party, co-workers, boss
---
Posted on 8/15/2017 12:04:00 PM.
A study out of Harvard Medical School and the University of California finds about one in five employees in the country feel like they work in a hostile environment. University of New Orleans Business Professor Mark Rosa says this is a surprising statistic with the increase in the amount of laws aimed against sexual harassment and bullying in the workplace.
More
Mark Rosa, workplace, hostile, University of California, Harvard Medical School
---
Posted on 7/26/2017 7:26:00 AM.
More people than ever are lying on resumes to get a job. According to a CareerBuilder survey, 85 percent of employers caught applicants fibbing on their resumes or application, up from just 66 percent five years ago. UNO business professor Mark Rosa blames a competitive job market.
More
Mark Rosa, resume, job applicants, career
---
Posted on 6/21/2017 2:51:00 AM.
A survey by the Society for Human Research Management finds one third companies are willing to provide employees with better benefits in order to attract more talented workers. University of New Orleans Business Professor Mark Rosa says this can be a more beneficial way to entice people over an increase in salary.
More
Society for Human Research Management, Mark Rosa, workplace benefits
---
Posted on 2/21/2017 1:01:00 PM.
The owners of Burger King could soon be in the fried chicken market, as Restaurant Brands International says they're buying Popeyes for $1.8 billion. The company also owns the coffee shop chain, Tim Horton's. Tulane Business Professor Dr. Mark Rosa says it's obvious Restaurant Brands International sees a bright future in Popeyes.
More
Popeyes, Burger King, Restaurant Brands International, Mark Rosa
---
Posted on 12/8/2016 6:28:00 AM.
Tis the season for holiday parties, and that means your company Christmas party too. Tulane business professor Dr. Mark Rosa says now that we're out of the recession, he expects most companies will throw parties this year.
More
Mark Rosa, holiday season, Christmas parties
---
Posted on 5/17/2016 4:23:00 AM.
The fast food chain, Wendy's, will begin offering self-serving kiosks at over 6-thousand locations across the country by the end of this year. Tulane Business Professor Mark Rosa says this is what we can expect for the future and many European fast food restaurants are using kiosks to take orders.
More
Wendy's, kiosk, fast food, Mark Rosa, Tulane
---
Next Entry