Posted on 3/26/2018 10:26:00 AM.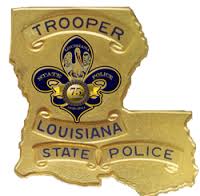 Two people are dead after being hit while riding a motorcycle at two o'clock Monday morning. The accident occurred when a 14 year old juvenile was driving a vehicle in the wrong lane. 42 Year old Robert Stafford of Gonzales and 45 year old Dusty Duet of Prairieville were killed when they were hit head on by a juvenile driver traveling in their lane.
Underage driver, Gonzales, motorcycle,
---
Posted on 4/13/2016 3:49:00 AM.
A bill that would allow motorcyclists aged 21 years and older the option to wear a helmet now heads to the full House. Current law requires all motorcycle riders to wear a DOTD approved helmet. But president of a motorcycle group, Randy Postlewait, says the DOTD approved helmets are not protective. He says 31 states have a freedom of choice law and we should follow their lead.
More
motorcycle, helmet, House, DOTD, Randy Postlewait, John LeBlanc, John Bel Edwards, Harvey LeBas
---
Posted on 1/22/2016 1:52:00 AM.
In an effort to reduce motorcycle fatalities and injuries, Louisiana State Police is getting the word out about a motorcycle training program that's offered at 10 different locations around the state. Trooper Bryan Lee says this training course helps to build mental and physical skills to safely operate a motorcycle.
More
motorcycle, training, LSP, Bryan Lee
---
Posted on 11/15/2013 1:02:00 PM.
An off
-duty Terrebonne Parish Sheriff's deputy was killed in a fiery crash outside the Southland Mall in Houma on Thursday night. Taylor Segura, 23, was on his motorcycle when a teenage driver pulled out in front of him. State Trooper Evan Harrell says when Segura tried to avoid the collision, the bike struck the drivers side door and both vehicles caught fire.

Deputy, Dies, Crash, Motorcycle, Fire
---