Posted on 4/19/2018 1:38:00 PM.
Brett Favre is stepping up to be the voice of a distracted driving campaign in Louisiana. The Hall of Fame Quarterback is featured in a new PSA speaking out against dangerous behavior behind the wheel that was responsible for the deaths of hundreds in 2016.
More
Brett Favre, Property Casualty Insurance, NFL
---
Posted on 3/21/2018 11:13:00 AM.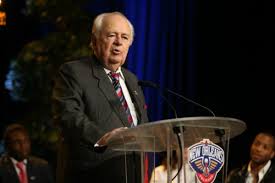 Public visitation for departed Saints and Pelicans owner Tom Benson is underway at Notre Dame Seminary in New Orleans. Mourners can pay their last respects until 7pm today and 8am to 1pm tomorrow, with a private funeral ceremony on Friday at noon.
Archbishop of New Orleans Gregory Aymond says it's a last opportunity for fans to pay their respects to a man who meant a lot to the city.
Tom Benson, Saints, NFL
---
Posted on 3/15/2018 5:58:00 PM.
Saints and Pelicans owner Tom Benson has passed away at the age of 90. Benson bought the Saints in 1985 after building a car dealership and real estate empire that started in San Antonio, and expanded to his hometown of New Orleans.
More
Tom Benson, Saints, NFL, obituary, Edwin Edwards, John Bel Edwards
---
Posted on 3/14/2018 12:09:00 PM.
Drew Brees is back in Black and Gold after agreeing to a two year, 50 million dollar contract one day before the start of free agency. The New Orleans legend will reunite with a team that was one play away from the NFC championship and loaded with young talent. Brees says he always planned on returning, but last season's success made the decision that much easier.
More
Drew Brees, contract, NFL, Saints, Black and Gold
---
Posted on 2/1/2018 1:41:00 AM.
Monroe-based CenturyLink is being relied upon to keep the lights on, and the broadcast rolling for this year's Super Bowl. U.S. Bank Stadium is a new stadium built from the ground up with state-of-the-art technology, mostly by CenturyLink. Director of Smart Solutions Jesse Sullivan says it's a project years in the making.
Centurylink, Super Bowl, NFL, technology
---
Posted on 12/10/2017 5:00:00 AM.

Multiple reports indicate fewer people are watching as much pro football than they used too. Baton Rouge-based Todd Agency owner Deborah Todd says it's not all about national anthem protests, she says viewer fatigue has also set in because of over saturation.
"The NFL has put games on Thursday, Sunday night instead of Sunday afternoon, Monday night," Todd said. People are just not as scheduled to watch football like they used to."
More
NFL, Deborah Todd, football, cord cutting
---
Posted on 10/10/2017 3:31:00 PM.

The N-F-L has been more about the National Anthem than the game itself recently. Commissioner Roger Goodell sent a memo to all 32 teams, specifying that all players and coaches quote - "should stand for the National Anthem." N-F-L analyst Mike Detillier says it's sad team owners didn't force the issue prior to Goodell's memo.
national anthem, nfl, football, Mike Detillier
---
Posted on 9/27/2017 3:28:00 AM.
Yet another lawmaker has voiced her disapproval of multiple Saints players refusing to stand for the national anthem. Denham Springs Representative Valarie Hodges wants to examine the team's agreement with Louisiana that contains state subsidies. She's called for a discussion to take place during next month's legislative budget meeting. Hodges supports the players' right to protest.
More
Valarie Hodges, NFL, Saints, national anthem
---
Posted on 9/26/2017 3:39:00 AM.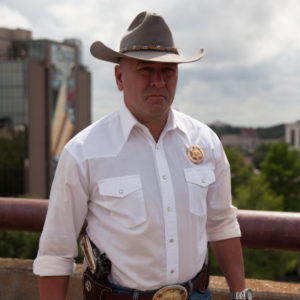 Congressman Clay Higgins is another lawmaker voicing his disapproval of NFL players refusing to stand during the national anthem. Higgins says growing up, football season was always something he looked forward to and found it grounding in times of instability. But he says now it's sickening to watch.
More
Clay Higgins, NFL, national anthem
---
Posted on 2/28/2017 5:11:00 AM.

The NFL Scouting Combine gets underway today in Indianapolis and 10 former LSU Tigers will participate. It's an opportunity for running back Leonard Fournette to show NFL teams he's over an ankle injury that limited him to seven games last season. Draft Analyst Mike Detillier says teams near the top of the first round will also be interested in talking with Fournette.
More
NFL, Mike Detillier, LSU, Tigers
---
Next Entry