Posted on 9/19/2017 11:55:00 AM.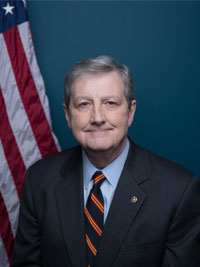 U.S. Senator John Kennedy supports his fellow Louisiana lawmaker's health care bill to repeal and replace the Affordable Care Act. Kennedy says he plans to vote for U.S Senator Bill Cassidy's measure but it can be better. He says for example, Cassidy's legislation gives states the choice if they want to impose a work requirement.
More
Affordable Care Act, John Kennedy, Bill Cassidy, reform
---
Posted on 12/8/2016 3:40:00 AM.
A landmark mental health reform bill co-authored by Republican U.S Senator Bill Cassidy is on its way to be signed into law by the President. Cassidy says this measure will expand access to resources for those who need treatment for mental illnesses.
More
Bill Cassidy, mental health, reform
---
Posted on 4/3/2015 3:12:00 AM.

Legislation that seeks to reform the state's film tax credit program has been filed for the upcoming session.
The program has made Louisiana a major player in the motion picture industry, but the department of economic development says it costs $4.48 for every dollar of state revenue it creates.
More
JP Morrell, film tax credit reform, New Orleans, Louisiana, legislative session, Hollywood South, reform
---