Posted on 2/25/2017 11:59:00 AM.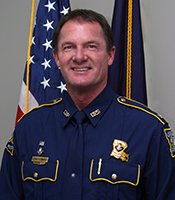 Colonel Mike Edmonson has no plans to resign even though U.S. Senator John Kennedy is calling on the head of the LSP to step down as result of four troopers charging the state overtime and hotel expenses while taking a side trip to Las Vegas and the Grand Canyon. Edmonson says Kennedy doesn't have the facts.
John Kennedy, Mike Edmonson, resign, John Bel Edwards, side trips, San Diego
---
Posted on 10/6/2016 1:02:00 PM.
Angry Jefferson Parish residents spoke out at a council meeting today urging Parish President Mike Yenni to resign. There are multiple allegations claiming while Yenni was the mayor of Kenner, he sent a 17-year-old boy sexually explicit texts and kissed the teen in a public bathroom then gave him designer underwear.
(update:
Yenni said today he has been deployed with his miliary unit through October 15 to help with the Hurricane Matthew response on the east coast.)
Jefferson Parish, Mike Yenni, resign, sexting, Richard Brown, Stacy Alessandro
---
Posted on 10/9/2015 10:19:00 AM.
David La Certe has resigned as secretary for the state Department of Veterans Affairs. La Certe did not provide a reason and neither did the governor's office, who named Thomas Enright as interim secretary. But Legislative Auditor Daryl Purpera says his office has investigated the department and its handling of the state's five nursing homes for vets and uncovered problems.
David LaCerte, Daryl Prupera, Veterans homes, Stephen Street, Inspector General, resign
---