Posted on 10/28/2018 2:27:00 AM.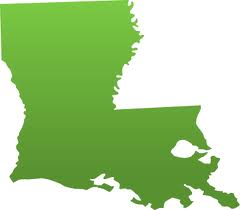 Amendment number four on the November ballot lets Louisianans decide whether or not their gas tax dollars should be allowed fund State Police, instead of being solely dedicated to infrastructure. President of Louisiana Good Roads Ken Perrett says people he's talked to have been shocked to find out where this money has gone in the past.
More
gas tax, State Police, Louisiana, midterms, amendment, 2018, roads, infrastructure
---
Posted on 9/27/2018 1:28:00 PM.
State Police say one of their Troopers used deadly force on a suspect in Hammond just before 1 AM Thursday morning. Authorities identify the deceased man as 23-year-old Coltin Brennan Leblanc of Loranger.
LSP says one of their troopers pulled LeBlanc's vehicle over in the downtown area. A Hammond resident who witnessed the event while at a late night restaurant says it started as a normal traffic stop.
State Police, fatal shooting, Hammond, witness
---
Posted on 8/2/2018 6:31:00 AM.
The attorney for a 19-year-old shot by a state trooper during a traffic stop in Baton Rouge last month says he's got questions as to why his client was shot in the back. Lawyer Don Cazayoux disputes Trooper Kasha Domingue's claim that she fired her weapon at the man, because he was charging her.
More
Don Cazayoux, Kasha Domingue, State Police, shooting, Baton Rouge
---
Posted on 7/24/2018 5:39:00 AM.
Five people have been arrested for insurance fraud related to an alleged staged crash in Evangeline Parish in 2015. Authorities say the crash was staged to facilitate a fraudulent insurance claim for property and bodily harm. State Police Spokesperson Master Trooper Brooks David says the crash included minors.
More
insurance fraud, staged accident, Evangeline parish, State Police
---
Posted on 5/27/2018 1:46:00 PM.
State Police say an 18-wheeler, hauling avocados, was unable to stop as traffic had slowed down, causing a chain reaction crash with nine other vehicles. The 18-wheeler jackknifed and caught fire. The driver was killed and a positive identification has yet to be confirmed.
I-12, State Police
---
Posted on 4/6/2018 12:25:00 PM.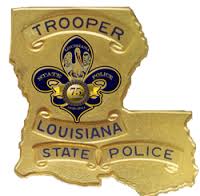 Some scary moments for a Louisiana State Trooper last night in New Orleans as a yet unidentified man attempted to get into his vehicle. Police later apprehended a juvenile and charged him with attempted carjacking of the unmarked police vehicle. Sergeant Jared Sandifer says it started when a strange car just pulled up.
More
New Orleans, Louisiana, State Police, Jared Sanifer
---
Posted on 2/5/2018 10:07:00 AM.
State Police arrest a 20-year-old Kaplan man for a hit and run crash that killed two high school students. Sgt. Jared Sandifer says Tyler Meaux was driving a Ford F-150 and heading the wrong way on U-S 167 Sunday night when he slammed into a Honda Civic, carrying four teenagers
.
"Two of those four teenagers were killed as a result of the crash," Sandifer said.
Jared Sandifer, State Police, Abbeville, Maurice, Tyler Meaux, North Vermilion High School
---
Posted on 2/5/2018 1:51:00 AM.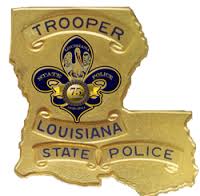 A highway safety traffic enforcement program that resulted in some state troopers receiving overtime pay when they were at home has been reinstated after new rules were put in place. The investigation by WVUE-TV in New Orleans led to the suspension of three troopers. State Police Major Doug Cain says changes have been made to prevent payroll fraud.
State Police, Doug Cain, WVUE-TV, highway safety traffic enforcement, LACE
---
Posted on 1/17/2018 11:09:00 AM.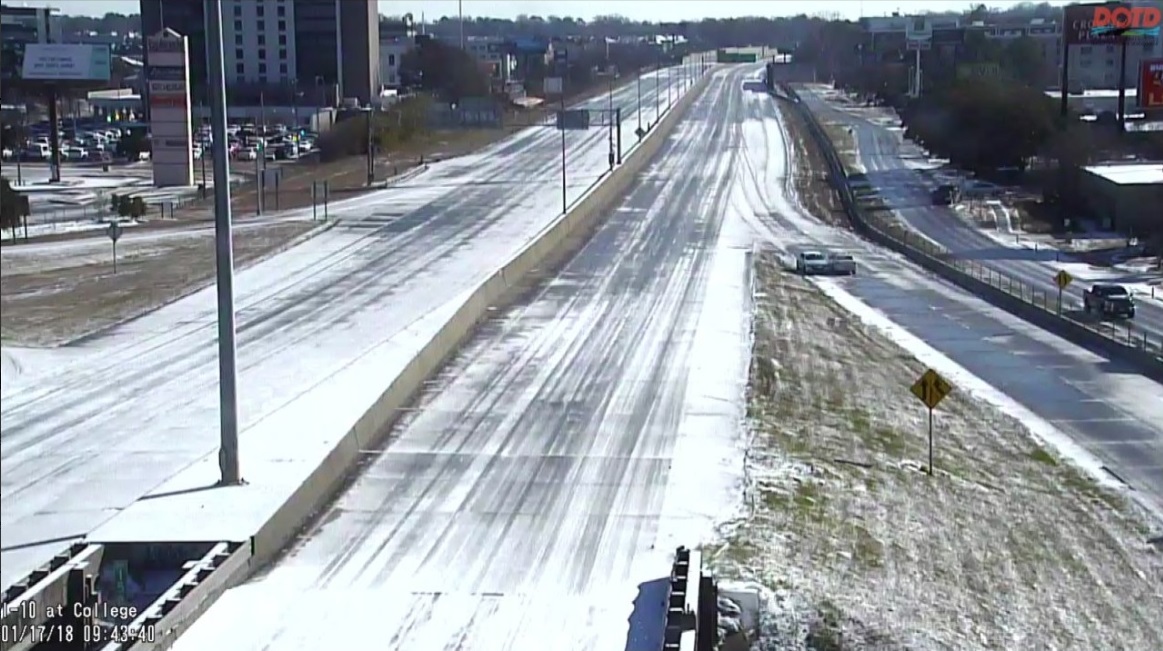 Needless to say the icy road conditions are something Louisianians are not familiar with, but there are still motorists out who are required to be at work. State Police Senior Trooper Bryan Lee says based on the number of crashes they saw in a short period of time this morning, plenty of people can't handle a vehicle on the ice. (pictured is I-10 in Baton Rouge @ College Dr.)
bryan lee, rodney mallett, ice, dotd, state police
---
Posted on 12/1/2017 7:11:00 AM.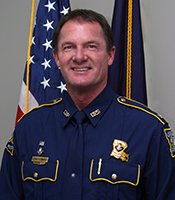 A newly released 300-page State Police report provided to the Advocate, shows former LSP Superintendent Mike Edmonson allegedly knew about side trips several troopers took on their way to a conference in San Diego last year. President of the Metropolitan Crime Commission Rafael Goyeneche says Edmonson asked for an internal investigation only after the media became involved.
Mike Edmonson, State Police, Advocate, side trip, Las Vegas
---
Next Entry