Posted on 8/10/2014 4:21:00 PM.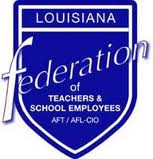 Michelle Southern reporting.
With school starting around the state, teachers are educating kids in the classroom with no idea what assessment test will be given this year. Louisiana Federation of Teachers President Steve Monaghan says educators are frustrated and angry about all of this.
common core, Louisiana federation of teachers, steve monaghan
---
Posted on 2/6/2014 2:17:00 PM.
Talks are underway between Governor Bobby Jindal, school superintendents and the Louisiana Federation of Teachers about making changes to the teacher tenure law passed in 2012. LFT president Steve Monaghan hopes the result is a fair system for teachers to appeal firings.

More
teacher tenure, act 1, bobby jindal, steve monaghan, louisiana federation of teachers
---