Posted on 3/29/2018 4:55:00 AM.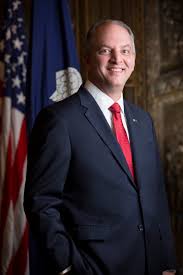 Governor John Bel Edwards is seeking legislative approval for his plan on how to spend 123 million dollars in surplus dollars from the last fiscal year. If he has his way, 40 million dollars of the excess would be dumped into transportation projects. Edwards says the money would be spread out across the bayou to improve critical infrastructure.
More
John Bel Edwards, fiscal cliff, surplus, infrastructure
---
Posted on 9/21/2017 9:27:00 AM.
Good budget news for the state has been hard to find, but we finally found some. Governor John Bel Edwards says the state ended up with a 143-million dollar surplus for the fiscal year that ended June 30th. Edwards says it's a sign Louisiana's economy is improving.
"We've been disciplined, we've worked extremely hard, and so the revenue is finally exceeding slightly the revenue forecasts," Edwards said.
John Bel Edwards, surplus, revenue, Louisiana economy
---