Posted on 7/7/2015 5:39:00 AM.
An agreement between world powers and Iran over that country's nuclear program will likely lead to another downturn in oil prices. That's according to the Executive Director of LSU's Center for Energy Studies, David Dismukes, who says a nuclear deal will result in Iran putting billions of barrels of its oil on the market.
More
Iran, Center for Energy Studies, David Dismukes, nuclear
---
Posted on 7/7/2015 2:19:00 AM.
Governor Bobby Jindal signed into law a bill that allows gun safety education to be taught in elementary public schools. The measure lets Louisiana's schools provide age appropriate classroom instruction regarding firearm accident prevention and safety. Author of the legislation, Erath Rep. Blake Miguez, says the Eddie Eagle Gunsafe Programs is like teaching kids "stop, drop, and roll" when on fire.
More
Eddie Eagle Program, Blake Miguez, Bobby Jindal, public school
---
Posted on 7/6/2015 3:44:00 PM.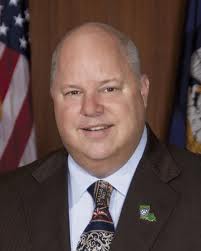 The State Department of Agriculture has been put in charge of establishing the regulations for the legal dispensing of medical marijuana and Ag Commissioner Mike Strain says one of the big questions is how much they will need. Stain says he's in talks with the Louisiana Board of Pharmacy.
More
medical marijuana, Mike Strain, LSU Ag Center, Southern Ag Center, Board of Pharamacy
---
Posted on 7/6/2015 11:40:00 AM.
Michelle Southern reporting.
The St. Helena Parish Sheriff's office says a 12-year-old boy died on the 4th of July when riding on a utility terrain vehicle and the adult driver is arrested. Detective Joe Chaney says 36-year-old Joshua Tharpe of Baton Rouge and the juvenile were riding the UTV on a wet sand bar and took a sharp sudden turn.
st helena parish sheriff's office, UTV, ATV, Joshua Tharpe
---
Posted on 7/6/2015 11:04:00 AM.
Same-sex couples who want to change their last name on their driver's license to reflect the same name as their spouse can do so starting today. State Police Lt. JB Slaton says the Office of Motor Vehicles had to upgrade their computers so they can change a man's last name.
JB Slaton, Office of Motor Vehicles, same-sex couples, last name
---
Posted on 7/6/2015 10:30:00 AM.
The rising number of youth who are constantly on their cell phones and computers are putting strain on their eyes. Doctors say they've seen a growing amount of young patients suffering from computer vision syndrome. Dr. Monica Monica, spokesperson for the American Academy of Ophthalmology, says when looking at screens your blink rate decreases.
computers, kids, eyes, millennials, American Academy of Ophthalmology, Monica Monica, computer vision syndrome
---
Next Entry