Posted on 12/19/2014 2:24:00 PM.
Michelle Southern reporting.
New employment numbers are out and Louisiana's labor force grew to a record 2,179,837 in November. The number of people employed in the state jumped by 59,419 over the year. LWC
louisiana workforce commission, curt eysink, labor
---
Posted on 12/19/2014 12:02:00 PM.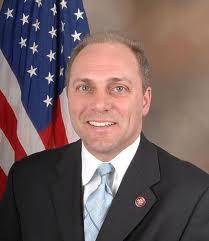 A group called Senate Conservatives Action is sponsoring radio ads that target Republican Metairie Congressman Steve Scalise. The ads accuse Scalise of siding with President Obama instead of standing on the conservative platform.
More
Senate Conservatives Action, Jeremy Alford, Steve Scalise, US Senate
---
Posted on 12/19/2014 10:30:00 AM.
The fall shrimping season comes to a close on some state waters Monday and some are calling this an average season for fishermen. Daren Martin, owner of Martin's Fresh Shrimp in Chauvin, says this was a fair season for shrimpers.
More
Louisiana, shrimp, Daren Martin, shrimping season
---
Posted on 12/19/2014 9:53:00 AM.
Michelle Southern reporting.
The last Saturday before Christmas could be as big a shopping day as Black Friday especially if you're still looking for TVs, appliances or clothes according to experts. Andrew Kuo (quoe) is a marketing professor at LSU.
super saturday, andrew kuo, shopping, christmas
---
Posted on 12/19/2014 4:27:00 AM.
Gas prices are about 75-cents lower than a year ago as we head into what should be a busy two weeks of traveling during this holiday period. Gregg Laskoski, with gas-buddy-dot-com, says with the statewide average at about $2.30 a gallon, it should help consumers pay for other expenses.
Greg Laskoski, gas buddy, gas prices, Louisiana
---
Posted on 12/19/2014 3:56:00 AM.
A new Southern Media and Opinion Research poll shows 58-percent of Louisianians disapprove of Governor Bobby Jindal's job performance as he heads into his final year in office. 600 likely Louisiana voters were surveyed.
More
Bobby Jindal, approval rating, Bernie Pinsonat, Southern Media and Opinion Research
---
Next Entry