Posted on 4/18/2014 5:16:00 AM.
With the four-year anniversary of the BP spill, The National Wildlife Federation releases a report that says dolphins and sea turtles are still dying in high numbers. Senior policy specialist with the federation, Sara Gonzales-Rothi, says the evidence is stronger than ever that dolphins are suffering from effects connected to Deepwater Horizon.
BP, oil, spill, dolphin, turtle
---
Posted on 4/18/2014 4:51:00 AM.
Michelle Southern reporting.
According to a leading beverage industry newsletter, there has been a big decline in soda consumption in the United States and it continues to drop. Denise Holston-West is a dietitian with the LSU Ag Center. She says the Beverage Digest report found that since the mid 90s, soda consumption per person, per year...has gone down about four gallons.
More
soda, LSU Ag, denis holston-west
---
Posted on 4/17/2014 5:39:00 PM.
Michelle Southern reporting.
The St. Landry Parish Sheriff's office says a man died as he was apparently trying to attack a woman with a machete in Opelousas. Capt. Megan Vizena says they received a call from the victim who told dispatch a man was on top of her with a machete and that she'd been cut several times.
More
St. Landry Parish Sheriff,
---
Posted on 4/17/2014 12:39:00 PM.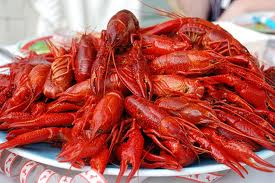 The Department of Wildlife and Fisheries have arrested a Crowley man for alleged theft of crawfish and criminal trespassing. 39 year-old Jason Mire was observed allegedly taking crawfish from traps in a pond that did not belong to him.
crawfish, theft, mudbugs
---
Posted on 4/17/2014 12:25:00 PM.
51-percent of those polled in the 5th congressional district, say they will not vote for US Representative Vance McAllister this fall. The telephone survey of 13-hundred registered voters was conducted by Pineville pollster David Glascock. ULM Political Science Professor Joshua Stockley says McAllister should be encouraged by the poll.
More
vance mcallister
---
Posted on 4/17/2014 12:01:00 PM.
Michelle Southern reporting.
State police say a Denham Springs man who is just 29-years-old was arrested for 6th offense DWI Wednesday. Trooper Jared Sandifer says the warrant came down following a serious injury crash that was caused by Lee Edward Easley in February in Livingston Parish.

More
DWI, Denham Springs, Livingston Parish, Lee Easley, Jared Sandifer
---
Next Entry