Posted on 7/28/2014 10:42:00 AM.
The Louisian

a Department of Wildlife and Fisheries is investigating a rare hit-and-run boating crash. L-D-W-F's Adam Einck says the incident happened Saturday night on the Amite River Diversion Canal in Livingston Parish when a ski boat was rear ended and run over by another ski boat.

Louisiana Department of Wildlife and Fisheries, hit-and-run, boating accident
---
Posted on 7/28/2014 10:31:00 AM.
Michelle Southern reporting.
The Ascension Parish Sheriff's office is in mourning today after a 32-year veteran of the department drowned Sunday while trying to rescue his dog from a pond. Lt. Col. Bobby Webre says 56-year-old Sam Vitter's Yorkshire Terrier slid under the fence of the residence and was running after something near the water.
More
ascension parish sheriff office, sam vitter, bobby webre,
---
Posted on 7/28/2014 3:40:00 AM.
The new school year begins in less than a month and thoughts are turning to back-to-school shopping. The Department of Revenue encourages families to keep their receipts while shopping for back-to-school items such as books, supplies, uniforms, and equipment required by schools.
Department of Revenue, back-to-school shopping, tax deductions, Byron Henderson
---
Posted on 7/26/2014 10:32:00 AM.
Louisian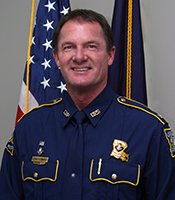 a
State Police Colonel Mike Edmonson turns down a controversial retirement package
that was approved by lawmakers in the final hours of the legislative session. Edmonson says the controversy surrounding his retirement boost was creating too much of a distraction.
More
Mike Edmonson, retirement boost
---
Posted on 7/25/2014 5:33:00 PM.
In the wake of the power outages that recently plagued portions of the state, the Louisiana Public Service commission will consider implementing a new system for power companies to better keep the public informed when outages occur.
power outages, Foster Campbell, Louisiana Public Service Commission, power outage texts
---
Posted on 7/25/2014 1:11:00 PM.
State h
ealth officials say a man from Caddo Parish has died from the West Nile Virus. The d
epartment of health and hospitals is not providing many details about the victim, citing confidentiality rules, but they can say the individual was between 60 and 74 years. State Epidemiologist Raoult Ratard says this is a reminder West Nile can be fatal
.
More
West Nile Virus, Raoult Ratard,
---
Next Entry